'Sissified' Baseball Turns Off Fans
by Joe Guzzardi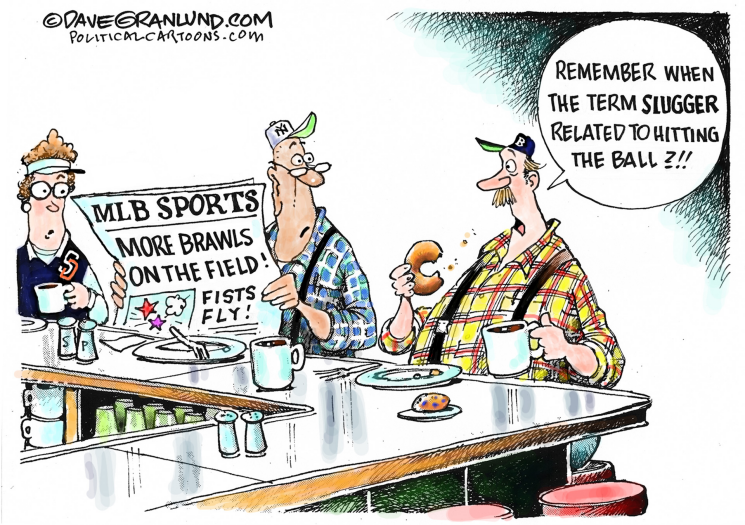 After a recent Chicago Cubs and Pittsburgh Pirates matchup, a reporter asked Bucs' manager Clint Hurdle if he worried that the game had become "too sissified." Abruptly, the interview's tone shifted. Gone was the predictable post-game pap. Hurdle rejected the allegation that baseball has gone soft, and inferred that his 40 years as a major league player, coach and manager made him a more qualified observer than the reporter.
Seen through Hurdle's eyes, the reporter was nothing more than a troublemaker, intent on embarrassing the manager, marginalizing the players, disgracing the entire Pittsburgh Pirates organization, and casting aspersions on baseball ,' the great American game.
During a game back in May, Cubs' first baseman Anthony Rizzo ventured far out of the base path, and took out Pirates' catcher Elias Diaz. Rizzo violated the home plate slide rule which took effect in 2014. The question the reporter was really asking Hurdle is why his pitchers didn't exact revenge by throwing at a Cubs batter, the time-honored retaliation when one team, by design, hurts an opposing player.
Although Hurdle never answered, the question looms large. The home plate slide, the second base slide rule and scheduled days off, along with almost any minor injury labeled "discomfort" or "tenderness" that lands a player on the disabled list, prove the reporter right.
Nothing reflects baseball gone squishy more than the 100-pitch limit for starters. Every inning of every game, broadcasters tediously remind the fans of the arbitrary 100-pitch count maximum by monotonously ticking off the current number of pitches thrown. To defend the pitch count, team executives claim that their pitchers are multimillion dollar investments, and must be handled with kid gloves.
If kid gloves are the cure, don't let pitchers get out of bed until two hours before game time. Consider these cases: Hall of Fame pitcher Nolan Ryan missed time when a coyote bit him; Greg Harris skipped two starts with an inflamed elbow after flicking sunflower seeds; after trying out a new drill that included running backwards, Jamie Easterly stepped into a gopher hole and hurt his back; and Ernie Camacho signed 100 fan autographs, then made a beeline to the team doctor complaining about elbow stiffness.
The pitch count obsession is beyond silly. Pitchers throwing no-hitters get the hook as soon as they approach 100 tosses. But 50 years ago, within living memory and not from Old Hoss Radbourn's 1880s era, Denny McLain, during his 31-win, 336 innings pitched, Cy Young Award season, threw 266 pitches in a single game against a slugging Baltimore Orioles team that featured fearsome sluggers Frank Robinson and Boog Powell. Many of McLain's pitches would have been what today's analysts call "high stress," yet he soldiered on. Since the human body has undergone neither physiological nor anatomical change in the last half century, the restrictive pitch count puzzles fans.
Empty seats reflect fans' frustration. Attendance has plunged to a 15-year low, down 6.6 percent from last year. This year could be the first season since 2003 with an average attendance below 30,000. ML--officials point to several reasons why attendance is low, all of them valid: early season frigid weather, too many lousy teams, as many as six might end up with winning percentages below .400, and a $76 average ticket price. But more to the point ,' the game has undergone too many radical changes on the field and from computer-generated stats to keep fans engaged.
A simple suggestion from this corner: No more changes. Leave baseball alone. Let the game be the game.
-
Joe Guzzardi is a Society for American Baseball Research and Internet Baseball Writers Association of America member. Contact him at
[email protected]